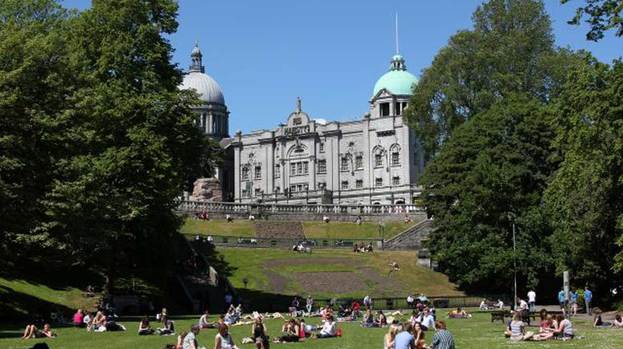 An Aberdeen businessman has given his backing to plans to bring Union Terrace Gardens "back to their former glory".
Balmoral Group chairman Jim Milne has said he would help establish a fund to restore the Victorian gardens.
Voting papers for a public referendum on the future of the gardens will be sent out to Aberdeen residents this week.
Voters will choose whether to retain Union Terrace Gardens or back the £140m City Garden Project.
Sir Ian Wood has pledged £50m of his own money towards the project but Mr Milne has said he and many of his "business contemporaries are committed to establishing a fund which will help bring the gardens back to their former glory."
He said: "Contrary to what has been reported, a 'Plan B' does exist. If the good public of Aberdeen vote to redevelop Union Terrace Gardens I wish the project well and hope that it is delivered on time and on budget.
"Without destroying our heritage, and without putting Aberdeen City further into debt, it would not be difficult to breathe fresh life into the park.
"Improved access, new planting, cleaning and restoration, park wardens and live events could all be relatively easily and cost effectively achieved.
"When you realise that destructive cuts are being made to the maintenance programmes of all the parks and public spaces across the city, it really does make you wonder where the sense is in committing £140m to a project that many believe won't deliver much for the long term prosperity of Aberdeen."
The Friends of Union Terrace Gardens, the group who are campaigning to preserve the gardens, have welcomed Mr Milne's comments.
Chairman Mike Shepherd said: "We cannot thank Jim Milne and his business colleagues enough for this amazing show of generosity and philanthropy in preserving what is best for Aberdeen city centre. Businessmen, the public and Aberdeen Council can all work together to preserve and highlight the amazing heritage that defines our unique Granite City. It's an opportunity that we must not turn down."
Meanwhile, the City Garden Project design by New York architects Diller, Scofidio and Renfro, has been praised by the heads of the Scott Sutherland School of Architecture and Built Environment and Gray's School of Art.
David McClean, head of the Scott Sutherland School, said: "The City Garden Project is exactly the catalyst Aberdeen needs to secure its future. The Diller, Scofidio and Renfro design creates a dynamic new parkland that draws people into its heart through connecting pathways and bridges. The park is varied, from lawn to meadow to woodland and to city square. Tucked into the folds of this new landscape is a cultural centre and outdoor performing space offering the opportunity to bring an enriched cultural life to everyone through music, art and dance."
Professor Paul Harris of Gray's School of Art added: "The City Garden Project could realise a new cultural ambition for the city. As a focal point, it would make the culture and creativity in our city more concerted and more visible.
"The butterfly arts centre and the indoor forum with black-box theatre would be amazing new spaces for art and all expressions of performing art. Aberdeen City and Shire desperately needs to establish a vibrant cultural reputation nationally and internationally which will enrich the social fabric of our city but also put us firmly on the map as a major destination."