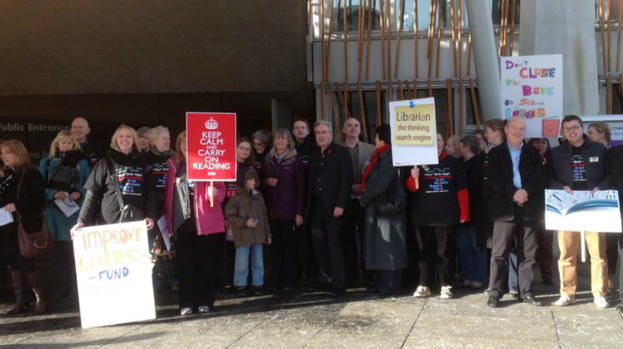 A mum whose son suffers from Cerebral Palsy has spoken of her anger and fear that his school library could close.
Clare Wilson, whose son John attends Cumbernauld High School, says the library service is vital for her family, not only in terms of learning, but socially too, as they deal with John's condition.
But proposed cuts to North Lanarkshire's Educational Resource Service (ERS) as the local authority tries to save £73m worth of savings could see the service in Cumbernauld - and across the district - phased out entirely in just three years.
Now she has joined authors, MSPs and library unions in lobbying parliament and calling for it to be saved.
Miss Wilson, who lives in Kilsyth, said: "The library is also good for a social place for him. You can't cut that, it's an institution like the Queen."
"I rely on [the school library service] more than John does in order to find out about his disability. I don't have the money to buy all the books with information
"Resources are being cut to a similar level of America where you have to supply everything as a parent. How many can realistically afford that?
"They're lowering education at a frightening rate and soon enough they'll end up coming out of school with nothing to offer."
The ERS provides curricular resources and library support to primary, special and nursery schools within the authority.
Librarians also offer bespoke programmes to the schools and nurseries to support both reader development and information literacy with their pupils.
Angela Pursam, librarian at Greenfaulds High in Cumbernauld, said: "A lack of support financially or loss of posts would make it increasingly difficult to develop and foster an all important reading culture.
"At its core, cutting budgets for school libraries leaves a moral vacuum. Why should our children be deprived of a qualified, expert Librarian and have reduced access to resources. Who will be responsible for fostering a sense of independent learning?"
School librarians and supporters lobbied the Scottish Parliament on Saturday, October 27 to highlight the impact that school libraries and librarians have on schoolchildren across Scotland.
The lobby was organised by Duncan Wright, board member of the School Library Association.
He said: "The ERS do a lot of work; they're the main point of contact for many in the public sector who may not have library access.
"I worry about the lack of support and personal development for librarians in schools and the long term effects of cutting this service."
Several MSPs turned up at the lobby, including Iain Gray, Marco Biagi, Alison Johnstone and Gordon MacDonald.
Mr MacDonald said: "The school library service gave me access to a world of books and the librarian encouraged my love of books, which has lasted to this day.
"Books can inspire, encourage, inform and provide escapism. A good school librarian can suggest titles to broaden the mind and support the school curriculum.
The public consultation document states nine full-time employees would be at risk of losing their jobs if the proposals went through.
A spokesman for North Lanarkshire Council said: "A wide-ranging consultation with all our residents has been approved. Until this has been completed and the responses analysed, we cannot discuss individual savings options."
The proposals would see £293m cut in 2013/14, and a further £38m cut in each of the next two years.
Children's Laureate Julia Donaldson, author of worldwide bestseller 'The Gruffalo', said: "Over the years I have had lots of contact with North Lanarkshire's ERS who do a brilliant job.
"All those author visits they organise and support, plus the great book awards which get children, often from poor areas and bookless homes, reading.
"It would be very sad if they were disbanded."
People who read this story also read