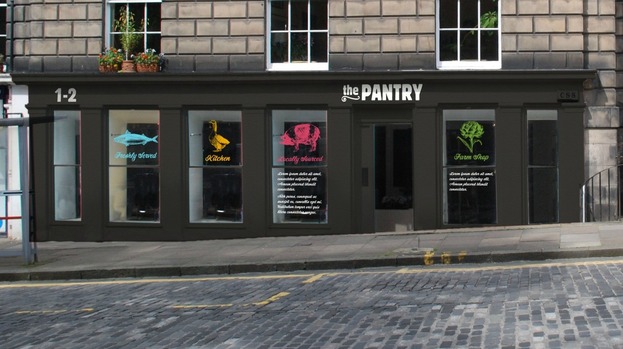 A new farm shop and café is opening its doors in Stockbridge.
Bringing the finest Scottish produce to the city, husband and wife team Chris and Charlotte Thompson have always had a passion for food and want to encourage a new take on Edinburgh's cuisine.
Charlotte, who comes from Stockbridge met her Cambridge born partner while at university, and the plan for the Pantry lived with them ever since.
Charlotte said: "We both worked in the food industry throughout university, like anyone usually does, as a waitress and a bar server.
"We met when working in a restaurant together.
"We both didn't do anything with our degrees and had created a business plan to open something in the future.
"We started saving money, so it was always the plan to do it but it's taken a long time to finally come together."
Despite having a business plan, the couple had no set idea as to what they were going to launch or where their new venture would open but one fateful day led, or forced, that decision.
Charlotte said: "I was overdue with our child, so me and my husband were walking up and down the area to try and get things moving.
"We noticed an empty shop space and there was a phone number in the window, so Chris gave them a call and they said they had only put the sign up ten minutes before.
"It was our dream location as Stockbridge is a village in its own right with a strong food background, so we think it was meant."
Charlotte explained they would not want to live anywhere else in the country and they wanted to try and help improve the food culture in the city.
She said: "Edinburgh is now on its way to becoming what it should be in terms of the food scene.
"Places like Melbourne, Spain and even Manchester have a great quality food scene and we want to help give Edinburgh that extra push."
The shop will sell a variety of Scottish meats, cheese and fish, local fruit and vegetables along with a range of meals to cook at home prepared in The Pantry's kitchen.
There will also be cakes, coffee, salads, sandwiches and light bites to take away.
Combining locally sourced ingredients with influences from around the world, the 35-seater café promises to offer relaxed informal dining with a menu that will change weekly reflecting seasonal produce.
Charlotte said: "We don't pretend that every single item is Scottish, but the star ingredients are locally sourced.
"We want to showcase Scottish ingredients in a new way and show there is more to Scottish food than haggis."
Head chef Ian Henderson has 15 years experience working in restaurants across Europe.
For the opening week the menu will consist of Arbroath smoky kedgeree with soft quail's egg and pulled pork cheek, grain mustard, apple sauce and shredded celeriac.
Every star ingredient served on the café menu will be available to buy in The Pantry's shop.
When finding local producers, the duo used a combination of research and social media. They posted messages on Twitter and Charlotte said food has been arriving at the café for them to taste.
Charlotte said: "We want to have a real variety and the best part to be honest was meeting the producers and tasting everything.
"In the café we will start with breakfasts and lunches with dinner platters, but we plan to expand into a full dinner menu by Spring."
The Pantry will open its doors for the first time at 1-2 North West Circus Place on Friday, December 7 from 12pm.
The cafe will launch the following day at 8.30am for breakfast, lunch, cakes and coffees. One-pot dishes will be available until 9pm.
Related articles
People who read this story also read