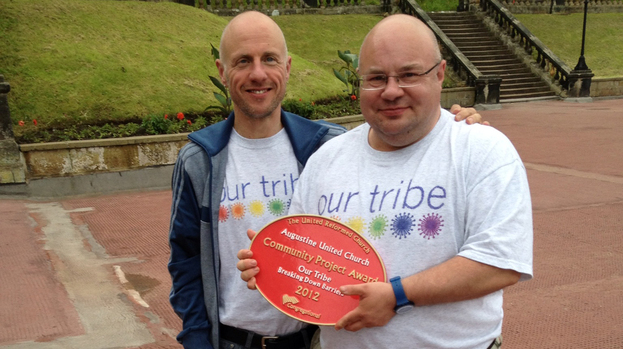 Christianity and the gay community have had an uneasy relationship in the past. Struggles still exist today for lesbian, gay, bisexual and transgender people as they try to understand themselves and their faith.
At times the bible has been used as a weapon against the LGBT community causing people to walk away from religion or question how they fit into society.
However, one Edinburgh church and one project in particular has built a bridge between religion and the LGBT community.
Our Tribe is run from Augustine United Reformed Church on George VI Bridge and encourages LGBT people to explore religion and integrate with the existing congregation.
Maxwell Reay, associate minister said: "We are still in a society where LGBT and religion is not the accepted norm in many ways at the moment that has been highlighted by the debate around equal marriage.
"The debate on equal marriage has raised the LGBT and Christian issue for a lot of people. Our belief at Augustine United Church is that LGBT people should be given the right to marry and that there shouldn't really be an alternative.
"What we hear in the media is people not wanting marriage to be re-defined but marriage has been redefined many, many times and marriage as we see it today is very different to equivalent relationships in biblical times."
Two and a half years ago Augustine United Reformed Church merged with the Edinburgh branch of the Metropolitan Community Church. This resulted in a predominantly older congregation uniting with LGBT worshipers and their family and friends.
The inclusion of the LGBT understanding of Christianity has fostered acceptance and diversity to a group of people who have historically been excluded or ignored from church.
Maxwell explained: "In that coming together of congregations we came to a place where there were people who had questions. Augustine's was predominantly an older congregation and people were really gracious, accepting and welcoming of individuals.
"People were given the opportunity to ask us to explain and tell them about LGBT and Christianity. They did say, 'For years I've been brought up with the idea that it's wrong to be gay and Christian. I know that that's not right but I don't know how to argue that it is OK.'"
After that, sessions were held at the church to discuss sexuality in the bible to explore what that might mean in today's society by re-framing and understanding things in a different way.
"There is a challenge in that there are people out there that would argue that the bible clearly says it is wrong to be gay and Christian," said Maxwell.
"I would disagree with that theologically because the passages that people often quote from are taken out of context or the cultural background of the passage isn't taken into account."
In the past Maxwell has been confronted by people who disapprove of his faith as a gay man. He said: "I firmly fit under the LGBT banner and if someone finds that a huge challenge and isn't willing to get to know me then I'm not going to give that any energy because there too many other people out there who are willing to learn and discover, as I was.
"When I first came out I had to work out what I thought and develop my own theology about who I was and how to be. That's a process that everyone does as their life develops we learn more about ourselves.
"I was brought up in a Christian family and went to church as a child. Then there became a point where I wasn't sure if it was the right place because of sexuality and gender issues.
"Maybe I was just lucky but I really had a strong belief that God's love for me was unconditional. I really believed that my sexuality and gender was a gift from God and that my calling to be a minister was part of that process.
"I've never felt that I was doing anything that God would be unhappy with, that's not to say that other people didn't try and tell me and that was a challenge."
"I am more than happy to talk about it from a personal and professional point of view but it has to be with people who are willing to listen and be respectful of that.
"What I find hugely challenging is the fact that people who often have a very conservative view of the subject are not always willing to be respectful and some of the stuff they say can be damaging and painful.
"At the end of the day I do have better things to do with my time because pastorally there are a lot of LGBT people out there who are living with the daily challenge of homophobia, of transphobia of prejudice and all of what that brings with it.
"The effects that has on people physically or in terms of mental health are enormous, the layers of discrimination that people experience are hugely challenging and often people need a bit of support to deal with that, even the strongest of people need support with that.
"It's the core questions that come up for anyone whose faced with a challenge, 'what's my meaning and purpose, who am I?' It's spirituality at its best."
Maxwell is a minister of the Metropolitan Community Church which was established in L.A. in 1968 by Rev. Troy Perry after he was effectively thrown out of his church for being gay. The MCC has championed LGBT rights and faith and paved the way for other denominations.
Maxwell said: "One of the things we are doing is allowing people to develop their faith and what that means to them. We've certainly encouraged people to reconnect with faith and faith that they maybe had earlier in their life and they have walked away from because it was too difficult and too painful.
"We provide a space that is affirming of who they are and that is so important because so many places of worship don't do that.
"It's not about getting people in and wanting to change them and it's not about tolerance. There are a lot of places where people feel tolerated but they don't feel affirmed or valued so if you came to an Our Tribe or a St Augustine's service what you would hear would be reference to LGBT life in a positive and affirming way."
Our Tribe has won a UK Community Project Award sponsored by Congregational & General Insurance which has given members of the church a surge of confidence.
Maxwell explained: "One of the things about getting the award was that, that was a mainstream denomination. I think for them to recognise us for the award was just truly wonderful thing because we are at a time where the LGBT is still getting knocked and here was a congregation supported by that insurance company who were willing to say this LGBT group is doing great work and we want to promote that.
"That whole process has been so affirming for the group. They gave us a lovely plaque and £2000 but what was more significant was the fact that they took the time to come and to really find out about us and promote us and that has been a huge confidence booster to people within Our Tribe and to the wider LGBT community."
People who read this story also read