George Square is to undergo a substantial facelift rather than a controversial redesign, the leader of the Glasgow City Council announced on Monday.
Exact details of the facelift are yet to be revealed, however, the statues and grassed areas will be retained and the red tarmac will be replaced.
Councillor Gordon Matheson's announcement came after a panel chose a winning entry in an international design contest.
The jury, which had been judging six plans shortlisted in the competition, chose design number two, which was produced by John McAslan & Partners which has offices in Edinburgh.
However, Councillor Matheson said the council would no longer be proceeding with the contract.
Councillor Matheson said: "The people of Glasgow have made it clear that they do not want a radical redesign of the square.
"They want the square to look better and be a place of which they can be proud – a place they can while away a sunny afternoon or get together and celebrate the big occasions in the life of the city.
"They also want us to keep the statues where they are, and they like the grass. However, they clearly want rid of the red tarmac. I am proud to say that I am listening to them.
"We will carry out this refurbishment work in time for the Commonwealth Games and only if there is public demand thereafter, will we consider a radical change.
"The companies which were asked to produce designs gave us stunning plans, any one of which would have looked fantastic, and I would like to thank the architectural firms involved for their time and hard work. I also want to thank the members of the jury."
Speaking to STV News later, Mr Matheson added: "We're also looking at ways to reduce traffic flow around George Square, too.
"We we still invest £15m but this is a major investment in George Square and, in the process, the grass will remain which is what the people have said that they wanted, the statues will remain — but we need to respect the history of George Square, too.
"We will introduce high-quality public realm and ensure that whenever there are major civic events taking place within the square, like the George Square Christmas light switch on, that all the requirements will be in place under the square so we don't need to bring in any generators and all this sort of stuff."
Under the procurement process for the design contest, the jury had to conclude its deliberations and choose a winner. The council would then have had to agree to award the contract. However, that recommendation will now not be put before councillors.
Interview with Glasgow City Council leader on George Square redesign
Winning Entry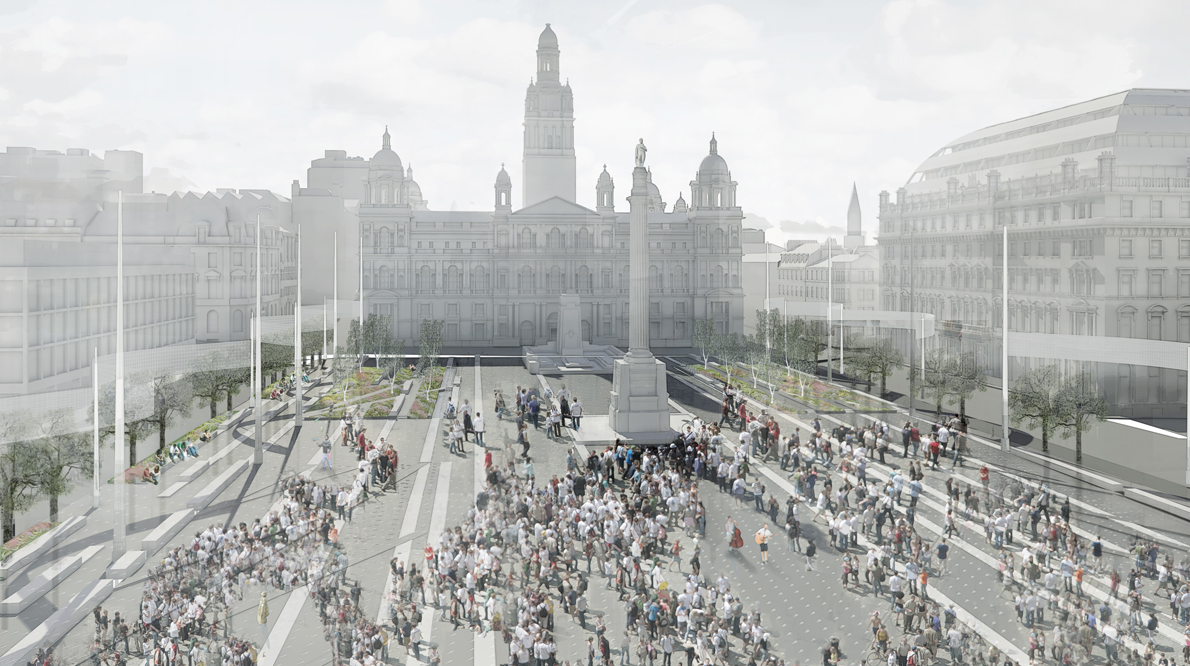 Feedback: We want your feedback on our site. If you've got questions, spotted an inaccuracy or just want to share some ideas about our news service, please email us on web@stv.tv.
More About George Square Revamp
Related articles