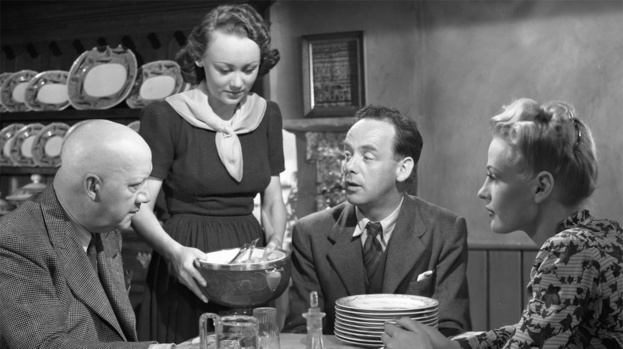 From the Tall Ship to the Old Hairdressers, there's screenings in the unlikeliest of places for day seven of the Glasgow Film Festival.
Step aboard the SV Glenlee and celebrate the centenary of the birth of Scottish director Alexander Mackendrick where his debut comedy caper Whisky Galore! will be shown at 6.15pm.
Look out your life jacket for the 1989 thriller Dead Calm at 8.30pm on the Tall Ship, starring Nicole Kidman and Sam Neill as a couple whose lives are torn apart when they rescue the lone survivor of a sinking ship.
Over at the Old Hairdressers Grandma Lo-Fi uses 16mm and super-8 footage of 70-year-old Danish/Icelandic visual artist Sigridur Nielsdottir to give an insight into the extraordinary pensioner who has self-published 59 albums. Glasgow lovers of home-recording Tangles will be performing after the 8pm screening.
Put your comic book knowledge to the test at Kapow! Pros vs Fans at 8pm in the CCA Theatre where pros Mark Millar, Frank Quitely and Steve Niles will be showing who really knows their stuff against super-fans Sanjeev Kohli and Daniel Sloss with Billy Kirkwood as the quizmaster.
Sample some of the best of European cinema with screenings of Swedish thriller Easy Money and sequel Easy Money 2 at 1pm and 4pm on Wednesday.
Fans of political drama Borgen can spot a few familiar faces in A Hijacking the story of a Danish freighter which is captured by Somali pirates at 8.45pm in Cineworld.
Check out the thrills, spills and action of roller derby in a discussion with Gary Erskine, the co-creator of Glasgow-based comic Roller Grrrls at 5pm in the CCA Theatre.
Find out more about some of the collectors, competitors and cosplayers who descend on San Diego for the world's largest comic book convention in Comic-Con Episode IV at 1.45pm in the GFT2. Or get to the bottom of who took the iconic photograph of workers perched 850 feet above the ground during the construction of the GE Building, in documentary Men at Lunch later in the day at 3.50pm.
For more information, go to the Glasgow Film Festival website.
What are you going to see at the Glasgow Film Festival? Get in touch on Twitter.
Related articles