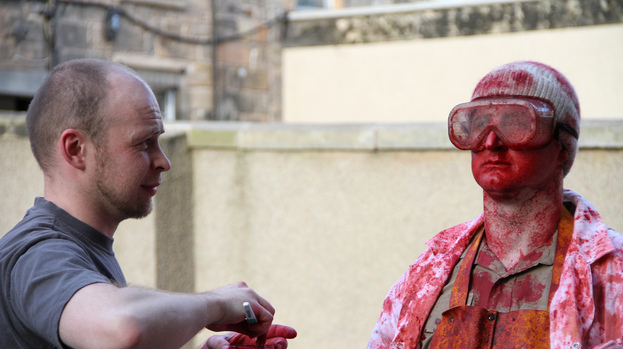 It's a city more usually known for it's vibrant night life, a place well tuned to the pulse of the party seeking reveller, but Glasgow is fast earning a reputation for the place to be for those without any pulse at all...
For the next two weeks, the streets of the city are to become the hunting grounds for the zombie game 2.8 Hours Later, a fast-paced race held in various locations across the UK where local participants are chased through their home town by zombies. Organised like a giant game of tag for the undead, the winners are those who make it to the end of the game alive.
We caught up with some of those taking part backstage on opening night; a place where you hear some funny things.
Such as "Can I have all the zombies from zone three in makeup, please?"; a woeful "I've got blood on my contract!"; the disparaging, "Oh, he's just a type one zombie."; and of course, "Just a wee bit of blood on top, I think."
Professional actors, recruited to add to the realism of the experience, are getting in to character in the green room.
Lianne Robertson is part of a hen night gone wrong along the course.
She said: "Work I've done before has been in theatres, or for film and television, so being out in the streets, and so close to the audience as well, is quite a change.
"We're going to have a mouthful of vegetable soup each, so if anyone does get too close we're just going to be sick on them."
For make-up assistant Colin Penny, the opportunity to work on 2.8 Hours Later is "a dream".
"Most of the other people helping out are talking about film work or beauty; but this kind of horror makeup is exactly what I want to be doing," he says, as he dabs a sponge of thick red gunk onto actor Scott Wood's face, and prepares to spray him down with a bottle of fake blood.
"Playing with all this blood and gore is great fun."
Alongside the actors, volunteers have been recruited from Glasgow's hordes of zombie enthusiasts.
Student Douglas Borland, 19, is a 'type two' zombie who'll be sprinting after participants and trying to tag them out.
He said: "I absolutely love zombie movies. So when I heard about this I was checking until the moment opened to apply.
"It's an experience you'll never get to do again – running through the city centre dressed like a zombie and trying to catch people. Who wouldn't want to do that?"
Check out our Flickr Gallery for images of last night's event, and add your own to our set.
Originally set to run from March 28 till April 1, the event has gained such an overwhelming amount of interest from Glasgow city dwellers that the game is being held again for another three nights next week.
But this is not the first time that Glasgow has played host to the gory. Take a look at our Zombie Timeline to see footage of what has become a yearly horror invasion...
Zombie Timeline
2009 Video Hundred's of zombies took over Glasgow's West End for Halloween 2009
2010 Video The un-dead took to the streets again in 2010 for the second annual Zombie Walk.
2011 Video The city was invaded by both Hollywood and the vitally challenged in 2011 for the filming of zombie movie World War Z, starring Brad Pitt.
2012 Video Zombie game 2.8 hours later invades the streets of Glasgow.
By Elaine O'Connor and Laura Piper.
Related articles