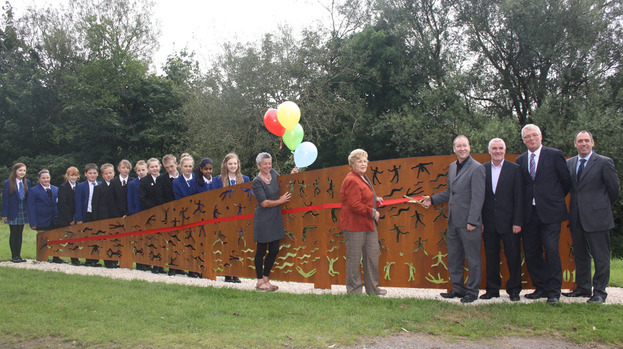 We bring you all the news from Dalziel High school.
International Children's Games - South Korea 2012
During the summer of 2012, Robbie Young from Dalziel High School was chosen to represent Lanarkshire in the 46th International Children's' Games which was hosted in South Korea.
The team consisted of eight boys who live in Lanarkshire and play for three different teams within Scotland - Motherwell, Hamilton and Hibernian. The Lanarkshire squad consisted of boys and girls representing 4 sports, namely; Football, Swimming, Athletics and Tae Kwan Doe.
They were piped out before family and Council representatives' as they departed from Strathclyde Park by coach to Glasgow Airport. The journey which lasted 23 hours involved a stopover in Dubai before reaching the final destination of Daegu. When they arrived in South Korea they had two days to settle in and adapt to the weather conditions before the opening ceremony.
On the opening day of the games they played the hosts South Korea whom they beat 17-1 and Pakistan who were also defeated 22-0. After winning their first game the team gained confidence but they knew that the following games would be harder. The next day they played the final games of the group stage which was against Switzerland and Russia. The team beat Switzerland 9-1 and Russia 6-1 and with a 100% win record they advanced to the quarter finals against Greece who they played later on that day. The team went on to beat them 6-4 in a well contested match.
The following day was the warmest of the competition at 55 degrees but the team kept their focus and stuck to the job in hand. They were 2-0 down to Ireland at half time but the team fought their way back to win 3-2. Robbie Young scored the winning goal in the last minute which got his confidence up for the final against Russia. The team went 1-0 down to Russia before Robbie Young equalised with 10 minutes to go and then the team went on to win 4-1 after extra time.
This enabled the team to achieve their objective which was to win the gold medal and was a result of all the hard work put in by the team and their coach before, during and throughout a fantastic event. Overall Robbie Young really enjoyed himself and found it was a great experience to have. He met some amazing people from all over the world and it's something he will always remember. See picture RobbieYoung.jpeg
Callum Elder competed in the Tae Kwon-Do junior world championships in Tallinn Estonia from Thursday 23rd August until Sunday 26. His first event was team patterns, which is a sequence of attacking and blocking movements performed in a formation.
The team were put up against Ukraine and were winning after the first pattern but the team lost after the second. His second event was sparring which was on the Friday. He fought in the age group 14-15, under 63kg category and was put against Uzbekistan.
Unfortunately, Callum was put out in the first round but he was mainly there for the experience for future international competitions. Callum has been doing Tae Kwon-Do for ten years and he has been a first degree black belt for the past three years. He hopes to compete in more international competitions in the future.
Dalziel High School Pupils unveil International Children's Games 2011 – Legacy Public Artwork, Strathclyde Park
On the afternoon of Thursday 6th of September, a selection of Dalziel High School pupils attended an unveiling of a public artwork that they had assisted sculptor Susheila Jamieson in designing.
Nathan Donnelly, Josh McRoberts, Sophie Lennon S1 (formerly pupils of Logan's Primary School) and Susan Ireland, Roslyn Jessney, Feba Eldhose and Georgia Lee S3 were able to witness the excitement of being part of unveiling the public artwork that. The sculpture sited at the pedestrian bridge in Strathclyde Country Park celebrates the success of the 40th International Children's Games held in Lanarkshire.
The initial idea of the project was to create an artwork where local schools and athletes could be involved in the development of design ideas for artwork. Workshops were held by Sushiela with creative Daziel High School pupils. After an introduction to the project, pupils created articulated cardboard figures which were arranged into action poses. The artwork made in Corten steel features action figure silhouettes that were cut using water jet technology.
Daziel High School pupils commented on the privilege it was to have been selected for such a project. The pupils liked being able to work with a sculptor and enjoyed viewing the finished piece. They were pleased to be able to identify their own ideas and input into the artwork. Georgia Lee S3 commented that it was amazing that something so powerful could be generated from an idea involving the simplicity of a few sheets of paper.
After enjoying seeing the artwork in place, the pupils returned to school knowing that as pupils of Daziel High School, they too had been able to create artwork that would impact others now and in the years ahead. See picture pic1.jpeg
The Dalziel High School show "Hairspray" will be performed in the school from Monday 8th to Thursday 11th October. This promises to be an excellent show and ticket order forms will be issued to pupils at the beginning of next week. Tickets are priced £7.00 (or £6.00 for children under 16) and we expect this show to sell out each evening so get your order form returned as soon as possible. We are delighted to announce our new sponsor for the show is Mitie Property Services Ltd.